This morning, on Day 6 of accidentally going off Zoloft cold turkey, which I don't recommend but I had started to taper anyway, and once you feel dizzy and nauseous and get this weird zapping sensation in your brain for a few days, it doesn't make you want to ingest more to taper down again . . .
And even though I told my mother off recently when she suggested it was time to get off the anti-anxiety med, and now I'm strapped in for what could be days, if not weeks, of feeling crappy yet knowing I can handle it because I've been pregnant before . . .
After I made the kids their custom breakfast sandwiches - overcooked nitrate-free bacon for Daisy and reheated poison-of-the-masses Jimmy Dean frozen sausage patty for Violet . . .
After Violet asked me to give her a ponytail that apparently wasn't tight enough, judging by her screams and insistence to pull the elastic out over and over, making her hair a frizzy mess, until I thought I was going to scream my head off, and I did . . .
After I scooped my head off the floor and shoved it back on again, apologizing to Violet for screaming and reminding her that she needs to help her mother, not fight her. And Violet cried about it being the transition day to Dad's house, and I asked her, do you ever take transition day out on Dad? And she shook her head no and I told her she wasn't fair . . .
After I told the kids to get themselves and the dogs into the car then found my kids fighting around the car with dogs in the kids' seats and no clue where the car keys were. And Violet couldn't get her seatbelt on and Daisy was trying to help her sister by moving Sadie-dog so Violet could reach her buckle and, in the process, Daisy splashed her fruit and protein drink all over the inside of the car multiple times and Scout-dog snaked the breakfast sandwich from Violet's hand when she wasn't looking . . .
After I started yelling again, making rules that will never be enforced, like no more eating in the car. And by the way, does anyone remember that you're supposed to HELP your mama? Violet, if you pull out your pony tail again, I will leave your hair crazy and drop you off AT THE PRINCIPAL'S OFFICE. And Daisy, PLEASE stop spilling something for a minute of your life and THERE WILL BE NO MORE FOOD OR DRINKS IN THE CAR . . .
And after Daisy announced she would be living exclusively with her dad from now on. She would not be setting foot in my house or car ever again. And I tried to make a quick peace by holding Daisy's hand while at the front of a line of cars waiting to drop kids off and Daisy ignored me and wouldn't look at me and Violet became extra sweet in comparison but then it took her forever to get out of the car, much to the pleasure of the people in the cars trying to get around me.
And I got a call on the way home from a crying Daisy at school, who said she felt guilty for ignoring me when she got out of the car, and I reassured her we just had a rough morning . . .there is nothing to feel guilty about . . . take some breaths and know that everything is OK and I love you . . .
After all that, when clearly, there was something for me to feel guilty about as I wasn't handling my mama's responsibilities as calmly as I should . . .
I remembered something that made me laugh the other day, so I thought I'd better look at it again. This person gets it.
You know the Beginning of School Enthusiasm? When the pencils are fresh and the notebooks are new and the kids' backpacks don't look like they lined the den of a pack of filthy hyenas? Moms, remember how you packed innovative and nutritional lunches and laid clothes out the night before and labeled shelves for each child's work and school correspondence and completed homework in a timely manner?

I am exactly still like that at the end of school, except the opposite.

We are limping, limping across the finish line, folks. I tapped out somewhere in April and at this point, it is a miracle my kids are still even going to school. I haven't checked homework folders in three weeks, because, well, I just can't. Cannot. Can. Not. I can't look at the homework in the folder. Is there homework in the folder? I don't even know. Are other moms still looking in the homework folder? I don't even care.
This is the part that made me laugh until I cried.
Then Ben tells me Tuesday that he needs a Ben Franklin costume for the Living History Museum today, and I'm like, What fresh hell is this?? I have no idea how I missed the correspondence on this (because I'm not checking backpacks is just a theory), but Brandon is the Costume and Project Parent and I am the Daily Grinder, which is a division of labor we agreed on to ensure our kids actually graduate one day and move out, but he is out of town on a mancation, so this is on me. I cannot even handle signing a folder in late May; a colonial costume is cause for full, unrestrained despair.

So, Ben went to school like this today, and there is no way this will ever not be a part of his childhood. Please note my scarf hanging out the bottom of his vest, as well as the soccer socks stretched over his Adidas pants. Just whatever, man.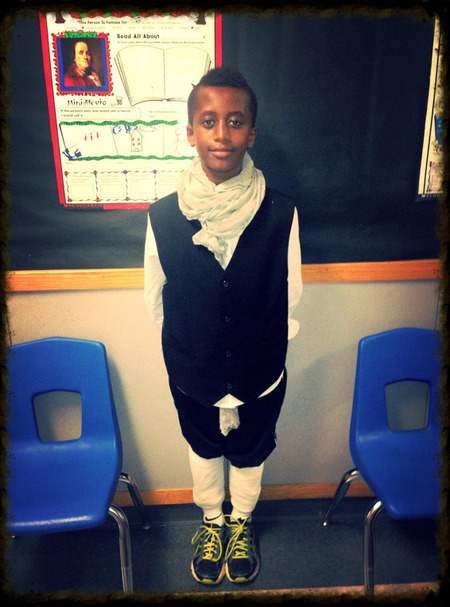 My shame was somewhat mitigated when I saw a kid wearing a random t-shirt and jeans with a pair of swim goggles around his neck (Michael Phelps) and another girl with a piece of paper taped to her shirt with her character's name written in marker. I caught the eyes of their moms and was all solidarity, you guys.
--
from
Worst End of School Year Mom Ever
I've totally been the mom of the kid with the character's name taped to her shirt.